Following the start of the partnership with HubSpot Platinum Partner agency Beans United, in 2020, OLX implemented HubSpot Marketing Hub and started using an inbound marketing strategy for user acquisition.
The main objectives were lead generation, increasing website traffic, and coordinating marketing & sales activities.
Increased Website Traffic
OLX managed to increase website traffic and position itself as a community thought leader by creating a personalized content strategy built around inbound marketing best practices.
In order to grow keyword rankings and improve topical authority, monthly SEO-optimized articles were created, with a focus on the buyer pain points, questions, and objectives. This involved custom designs for each page, web development using HubSpot CMS, and a flawless marketing-oriented setup for optimal campaign monitoring.
Qualified Lead Generation
After thorough strategy sessions with its partner agency, Beans United, OLX implemented custom inbound marketing campaigns built around the primary pain points of its buyer personas. Premium content assets (ebooks, videos, and webinars) were created and promoted through specific email marketing campaigns and workflows in HubSpot. For awareness, organic tactics were paired with paid search and social media advertising.
Once the potential buyers landed on the landing pages developed in HubSpot, their actions were followed as they moved along the buyer's journey and ultimately retargeted with bottom-of-the-funnel offers through paid ads. The leads who downloaded the premium content assets were enrolled in dedicated HubSpot lead nurturing workflows designed to move them into the Consideration and Close stages.
One of the most successful inbound marketing campaigns was an on-demand webinar which was developed in partnership with a local eCommerce company, focusing on effective strategies to increase online sales. 80% of the audience was qualified and 53% of the contacts that interacted with the content advanced as MQLs.
Improved Lead Segmentation
OLX created a specific list of eligibility criteria that was used to better qualify the prospects that were sent along to the sales team for processing. Additionally, a personalized lead scoring system was developed, allowing OLX to better prioritize high-converting leads. This all contributed to improved communication between sales and marketing.
Lastly, the data from the website and campaign landing pages was used for reporting. The fantastic growth all witnessed proved that the bet OLX made on inbound marketing paid off:
153% leads increase YoY, 2022 vs 2021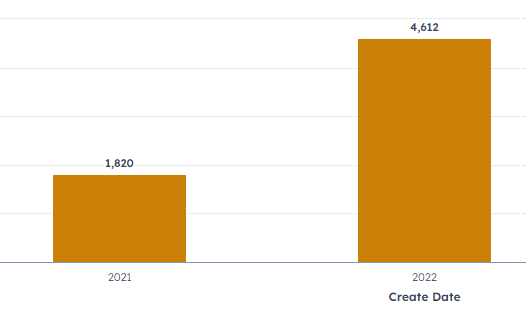 468% MQLs increase YoY, 2022 vs 2021
Testimonial Client
"With an analytical approach, a goal-oriented mindset, and a permanent can-do attitude, Beans United is one of the most efficient and reliable partners in reaching our lead generation objectives."
Florentina Popescu,
B2B Growth Manager - OLX Business RO PT BG

This HubSpot-powered inbound marketing partnership helped OLX Romania boost results through qualified lead generation, increased website traffic and customer loyalty, and better alignment between sales and marketing.